July 15, 2020 Update
Dear Friends,
Please stay informed of our events and join our congregation by visiting and liking our Facebook page.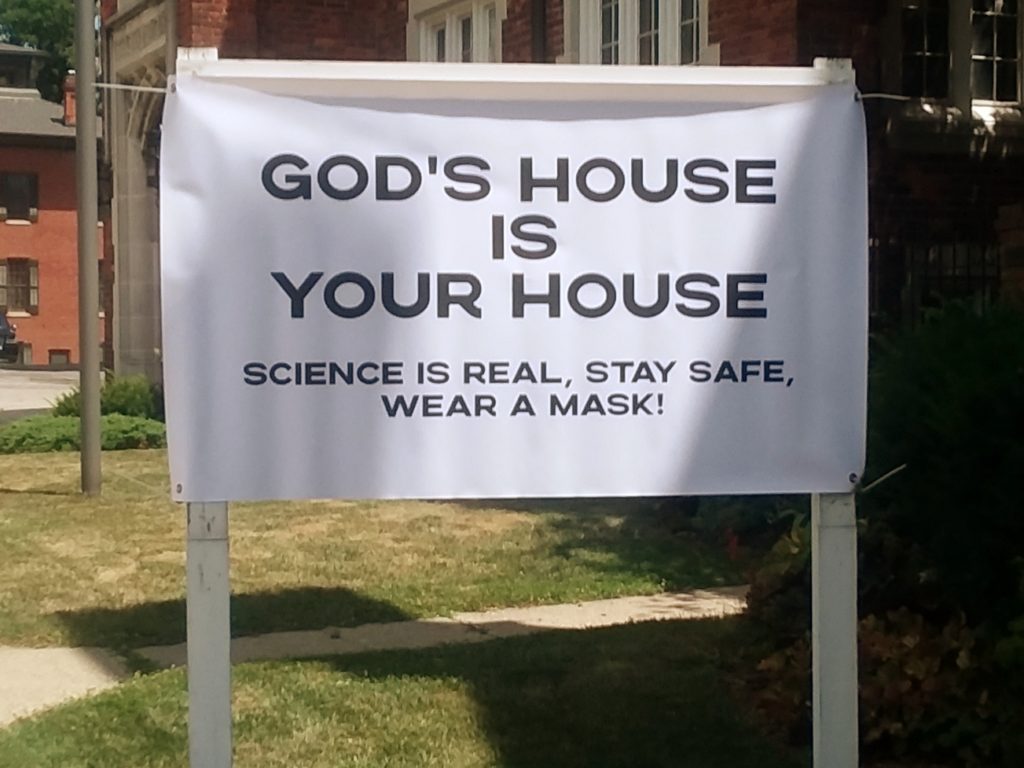 Also, please stay safe and wear a mask!
A Pastoral Directive from Bishop Perry
(Updated March 25, 2020)
Dear Friends,
Yesterday, the Honorable Gretchen Whitmer, our governor, issued Executive Order 2020-21. This order requires temporarily suspend activities that are not necessary to sustain or protect life. This order is commonly referred to as "Staying Home Safe."
This new "Stay Home Safe" order will have several ramifications for our congregations and the ongoing ministries and community services that operate from our church properties. Given the governor's order, effective today and continuing until further notification, I am directing the following activities:
WORSHIP AND HEALTH CONSIDERATIONS
All church buildings are to be shut down and all ministries and business functions suspended. This means that no clergy, staff, volunteers, ministries, groups, day cares, tenants and community partnerships are allowed on church property. Appropriate arrangements should be made to have mail services temporarily held and essential business functions carried out remotely, to the best of a congregation's ability.
All virtual liturgies, which many of our congregation have so wonderfully offered over the past weeks, are no longer allowed on church property. More clearly stated, this means that access to church property for the videotaping, live-streaming, or audio recording of worship services, bible study, musical programs, etc., is temporarily suspended. The exception to this directive is the 10 or so congregations in our diocese where the cleric lives in a rectory adjacent to or on the grounds of the church. In these instances, given the cleric is the only person on the premises, liturgies may be live-streamed or taped from these sanctuaries.
HUNGER AND SHELTER MINISTRIES
Regarding food pantries and ministries providing essential community services: I will consider these on a case-by-case basis. If congregations can demonstrate to me that safe, health department approved procedures are being used, and that a zero transmission environment is being maintained, I may make an exception and allow these ministries to continue to operate on our church grounds and in our church buildings. Additionally, these ministries must not be using any staff or volunteers who fall within the group of those most vulnerable to contracting the Covid-19 virus.
FINANCIAL IMPLICATIONS
In the past few days, many congregational leaders have contacted me with concerns over how the lack of in-person worship services may impact their finances. I share this concern and after prayer and conversation with a number of our lay and ordained leaders, I am directing our staff not to send apportionment invoice statements or Total Ministry assessment invoices to our congregations for the month of April. In addition, we will temporarily suspend the existing process of seeking apportionment relief and replace it with a new streamlined process. More details on the streamlined process will be forth-coming.
Going forward, I urge all of our congregations to explore ways that parishioners can continue to honor their pledges via e-giving or through recurring online bill pay options. And I ask that one member or leader of your congregation participate in an "On-Line Giving" Webinar that we are offering this Thursday, March 26 at 9:00 am. More information on the webinar is below.
AS A COMMUNITY OF COMMUNITIES OF FAITH
I am heartsick at the suffering that this virus is causing in our diocese, our country, and in our world. And I know that now is the time that we, people of faith, must embody Christ's greatest commandments,
"To love the Lord your God, with all your heart, with all your soul, with all your mind and with all your strength, and
To Love your neighbor as yourself."
My directives are intended to assist us in doing just this.
I long for the time when we will once again be able to gather together to pray, to receive the sacraments, to laugh, to cry, to dance, and to serve. That time will come.
For now, we are all affected by this pandemic and working together we will come through this very difficult time.
In closing, I offer you words from the Apostle Paul, that have comforted me as I find myself saying them throughout the day:
Glory to God whose power working in us, can do infinitely more than we can ask or imagine: Glory to Him from generations to generations in the Church, and in Christ Jesus for ever and ever.  Ephesians 3: 20, 21
May they be of some comfort to you as well.
Wash your hands.
In Christ,
The Rt. Rev. Dr. Bonnie A. Perry
Bishop, The Episcopal Diocese of Michigan
Webinar Information
You are invited to a FREE webinar exclusively for the Episcopal Diocese of Michigan hosted by Horizons Stewardship.
When: Mar 26, 2020 09:00 AM Eastern Time
Topic: Critical Conversations--How to Make the Ask During Social Distancing
Register in advance for this webinar
After registering, you will receive a confirmation email containing information about joining the webinar.
Critical Conversations—How to Make the Ask During Social Distancing
Coronavirus has permanently changed how we worship, communicate, build community, and express generosity. It has also created an enormous opportunity to take the hope of the Gospel from the pews of our church buildings to the people and places in need in our communities. Now is the time to educate and invite your parishioners to adjust their giving patterns to ensure your church is fully resourced to meet the ever-growing needs of your community.
This webinar will address the most critical aspects of giving and generosity during this time:
How to prepare your church to receive recurring gifts to continue ministry funding.
How to include an invitation to give during online worship and other parish-wide communication.
How to stay connected with those who are most heavily invested in your ministry.
How to continue to share the message of God's abundance in light of financial changes.
Kristine Miller, CFRE, and Scott McKenzie, PhD., Partners with Horizons Stewardship, have a combined 50 years of experience in generosity and stewardship. They have written three books together including their latest, The Generosity Challenge—28 Days of Gratitude, Prayer and Faith. In this webinar, they will share practical ideas to help you accelerate generosity and fully fund your ministry during this unprecedented time—highlighting key decisions every church needs to consider and mistakes to avoid. A treasure trove of additional resources will also be provided.
A Pastoral Directive from Episcopal Bishops in Michigan
(Updated March 18, 2020)
Dear Friends,
With heavy hearts and hope-filled spirits, we are compelled to offer a new Pastoral Directive in response to COVID-19. These new directives are in line with the recommendations of the Centers for Disease Control (CDC) and the World Health Organization (WHO).
In addition to continuing to forgo all public, in-person worship services, we direct you to cease all other Sunday, Saturday and weekday in-person gatherings, including weddings, funerals, memorial services, bible studies, prayer meetings, and non-emergency baptisms, and place all of the groups that gather at your congregation on hiatus for the CDC's recommended eight weeks, or until May 10th, including both Holy Week and Easter. We encourage you to make arrangements to offer your education classes or other meetings by video or phone conference call as you are able. Food pantries and feeding programs should operate in a "curbside only" capacity.
As Bishops, we make these directives so that the Episcopal Church across Michigan may lead our state in caring for our communities by embodying pastorally sensitive physical distancing practices. The more physical distance we place between ourselves and our neighbors, the more we help to mitigate the spread and impact of this virus. At the same time, we are called to reach out to each other in love, so that while we are physically separated, we are spiritually and relationally connected. The Body of Christ is more than what happens inside of our buildings - it is a people living the Way of Love wherever we may be.
God of Life, you give us life and hope. Be with us in the chaos of this time. Calm our fears, be the light for our path, and strengthen our trust in your promise never to leave or forsake us. We pray through Christ, in the power of your Holy Spirit. Amen.
A Prayer for Chaotic Times, Enriching Our Worship
In Christ,
The Rt. Rev. Dr. Bonnie A. Perry
Bishop, The Episcopal Diocese of Michigan
The Rt. Rev. Whayne M. Hougland, Jr.
Bishop, The Episcopal Dioceses of Eastern & Western Michigan
The Rt. Rev. Rayford Ray
Bishop, The Episcopal Diocese of Northern Michigan
Diocese of Michigan Specifics from Bishop Perry
Dear Friends,
To slow the spread of the Covid 19 virus I have closed our Diocesan offices and we are directing churches to be open only in a very limited capacity making use of the fewest staff people possible and encouraging remaining staff people to work from home. If at all possible please continue to pay all staff their regular weekly wages.
All of our upcoming Diocesan events have been moved to online formats, including:
The Chrism Mass will be offered in an online format - more details will be forthcoming.
All diocesan committee meetings and meetings with me have been moved to conference call or Zoom formats.
Virtual worship services should be recorded and offered with the least number of people possible, a maximum of four, including the person filming
To increase my connectivity with you in this time of physical distancing, please look for weekly announcements and for opportunities to be with each other and to hear from me such as:
The Lenten Book Study
Weekly clergy zoom and conference calls
Deanery calls for clergy and lay leaders
Weekly meditations and
Sunday sermons
My staff has curated a list of resources for worshiping online that we will continually update. Here is a list of  EDOMI online and remote worship services. To add your congregation's offerings to this list, email astania@edomi.org.
In this uncertain time, I recognize that our hunger relief ministries are more important than ever. Please implement curbside only pick-up and contact your County Health Department for the most up-to-date guidelines as to how these very important services can best be offered to our neighbors in need.
If you have any questions or suggestions, please don't hesitate to reach out to me or my staff. You can find my staff's contact information here. I encourage you to view the Presiding Bishop's recent statement on the COVID-19 outbreak.
In Christ,
The Rt. Rev. Dr. Bonnie A. Perry
11th Bishop of the Diocese of Michigan
Special Update from St. Luke's Episcopal Church March 13, 2020
(Updated March 13, 2020)
St. Luke's, as requested and advised by The Presiding Bishop Michael, and our Bishop Bonnie, is suspending Sunday services through March. The office will remain open, and other opportunities and safer community connections will be ongoing. Please participate in our Facebook community https://www.facebook.com/stlukesypsi/  for more information and inspiration.
The diocesan website https://www.edomi.org/ has updates from Bishop Bonnie, and links to information from the National Church. Washington's National Cathedral has a compilation of previous services https://cathedral.org/worship/service-archive/ which you can watch. Their Sunday 11:15 a.m. service will be streamed on their Facebook page https://www.facebook.com/WNCathedral/
The State of Michigan maintains an authoritative website with centralized information on the COVID-19 virus. https://www.michigan.gov/coronavirus/ .You can sign up for news updates.
As we remember who and whose we are, let us pray:
This is another day, O Lord.  I know not what it will bring forth, but make me ready, Lord, for whatever it may be.  If I am to stand up, help me to stand bravely.  If I am to sit still, help me to sit quietly.  If I am to lie low, help me to do it patiently.  And if I am to do nothing, let me do it gallantly. Make these words more than words, and give me the Spirit of Jesus.  Amen.
Peace to us all,
The Rev. Dr. JoAnn Kennedy Slater, J.D.
Rector